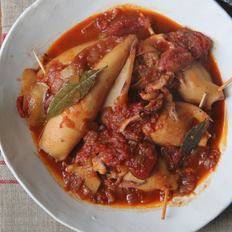 Don't pretend like you don't like squid.
Braised Squid Stuffed with Chorizo
INGREDIENTS for 4 servings
3 tablespoons extra-virgin olive oil
8 ounces fresh chorizo, peeled and crumbled
1 cup fresh bread crumbs
1 1/2 pounds whole squid with tentacles
1 medium onion, chopped
4 garlic cloves, chopped
2 bay leaves
4 strips lemon zest
1 cup white wine
2 cups fish or chicken stock
1 (32 ounce) can whole tomatoes in juice
Kosher salt
Freshly ground black pepper
4 fresh eggs (optional)
In a large heavy pot heat the oil over medium high heat until hot. Cook the chorizo, stirring, until browned about 4 minutes. Transfer the chorizo to a bowl with a slotted spoon, reserving the fat in the pot. Toss the bread crumbs with the chorizo.
Stuff the squid bodies with the chorizo mixture and seal each with a wooden toothpick.
Heat the fat in the pot over medium high heat and stir in the onion, garlic, bay leaves, and zest and cook until golden, 6 to 8 minutes. Stir in the wine, stock, tomatoes, 1 teaspoon salt and 1/2 teaspoon pepper and bring to a simmer. Nestle the squid bodies and tentacles in the liquid and simmer, covered, until the squid is very tender, about 1 hour. Transfer the squid to a serving bowl, then boil the liquid until reduced by half, about 10 minutes.
Pour the cooking liquid over the squid and serve. Top with a sunny side up egg (optional)