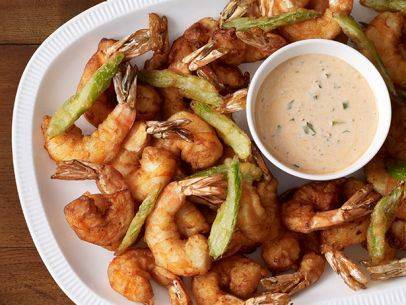 Congratulations
Niner fans! Another impressive performance by the 49er defense. Now, it's on to Philadelphia. Enjoy the game with some good food. This popped up in my Facebook memories today. I had some shrimp, celery and Frank's and I thought this might work. It does!
Buffalo Fried Shrimp with Fried Celery
2/3 cup mayonnaise
1/4 cup plus 3 tablespoons Buffalo (Frank's) hot sauce
2 teaspoons whole-grain mustard
1 heaping tablespoon chopped dill pickle
1 heaping tablespoon minced shallot
1 heaping tablespoon finely chopped fresh parsley
Vegetable oil, for deep-frying
1 cup all-purpose flour
1 cup lager beer
2 pounds large shrimp, peeled and deveined (tails intact)
2 stalks celery, thinly sliced diagonally
Mix the mayonnaise, 1/4 cup hot sauce, the mustard, pickle, shallot and parsley in a small bowl; cover and refrigerate.
Preheat the oven to 250 degrees F. Heat 2 inches of peanut oil in a large wide pot over medium-high heat until a deep-fry thermometer registers 365 degrees. Or, set your deep-fryer at 365.
Meanwhile, whisk the flour, beer and the remaining 3 tablespoons hot sauce in a large bowl; add the shrimp and toss to coat. Working in batches, remove the shrimp from the batter with a slotted spoon and fry until cooked through and golden brown, 2 to 3 minutes. (Return the oil to 365 degrees F between batches.) Transfer to a paper towel-lined baking sheet to drain; keep warm in the oven.
Add the celery to the remaining batter and toss to coat; remove with a slotted spoon and fry until golden brown, about 2 minutes. Serve the fried shrimp and celery with the prepared sauce.