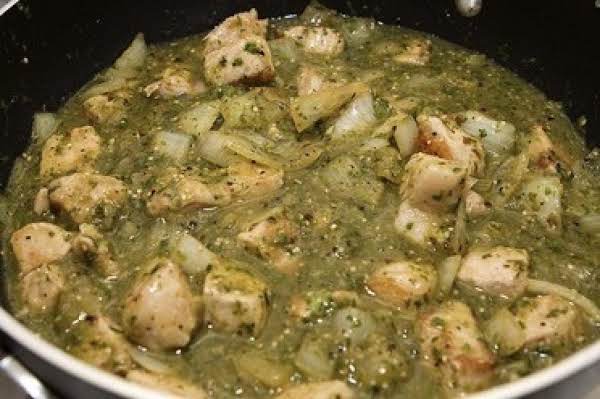 With rain expected in Redding this weekend, it might be a good time to dust off and rinse out that big ol' stock pot and make a batch of tasty green stuff. This is gonna make your kitchen smell really good!
4 pounds boneless pork butt extra fat trimmed, cut into 1-inch chunks,
Kosher salt and fresh-ground pepper, to taste
Olive oil
1 medium yellow onion diced
1.5-pounds tomatillos husked and quartered
12 ounces canned, diced green chilies, not drained
1 bunch cilantro
4 garlic cloves
2 jalapenos seeded
2 poblanos, seeded
1 tablespoon dried oregano
2 teaspoons cumin
4 cups chicken stock divided
15 ounces fire-roasted tomatoes diced
Toppings:
Fresh cilantro
Sour cream
Radish, cut into matchsticks
Diced onion
Avocado
Hot sauce or Siracha
Grated cheese
Fresh lime wedges, for squeezing
Pickled jalapeno slices
Preheat oven to 400. On a baking sheet, toss tomatillos, jalapenos and poblanos with olive oil and season with salt & pepper. Roast for about 30 minutes, or until browned. You might have to pull the jalapenos and poblanos earlier so they don't completely fall apart.
Season pork with salt and black pepper.
Heat oil in a large soup pot over medium-high heat.
When the oil is hot, add half the pork to the pot and brown. Set aside. Add remaining tablespoon of olive oil and brown the remaining pork. Set aside.
Add onion and cook 4-5 minutes or until softened. (Reduce heat if they begin to brown). Remove from heat.
In a blender add tomatillos, un-drained green chilies, cilantro, garlic cloves, jalapeños, oregano, cumin, and 2 cups chicken stock. Puree on high until smooth.
Pour the blended mixture, fire-roasted diced tomatoes, and browned pork along with any juices and remaining 2 cups of chicken stock into the pot.
Stir to combine, turn on to medium-high heat and bring to a boil. Reduce heat to low and simmer covered, stirring occasionally.
Cook 3 to 4 hours or until the pork is fork tender and starting to shred.
Serve with your favorite toppings and warm flour tortillas