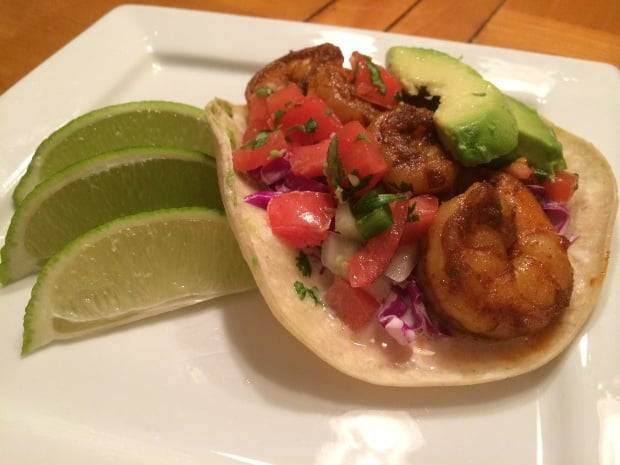 Imagine these babies on your Super Bowl menu. 
Damn Fine Sweet and Spicy Shrimp Tacos
For the damn Shrimp:
2 pounds large shrimp, peeled, deveined and tails removed
2 tablespoons brown sugar
1 tablespoon chili powder
1 teaspoon ground cumin
1 teaspoon smoked paprika
1 teaspoon garlic powder
1/2 teaspoon cayenne pepper
Finely grated zest from 2 limes
1/4 cup canola oil, plus more for cooking shrimp
For the damn Avocado Salsa:
1 tomato seeded and chopped
1 avocado peeled, seeded and cut into chunks
1 jalapeno seeded and chopped (leave the seeds and ribs if you like it hot)
Kosher salt and fresh ground pepper, to taste
1 tablespoon fresh lime juice from half a lime
Fresh cilantro leaves coarsely chopped
For the damn Tacos:
12 corn or flour tortillas, warmed or charred
Pico de Gallo (off the shelf or homemade)
Fresh cilantro
Lime wedges for, squeezing
First, let's prepare the damn marinade for the shrimp. In a large bowl, mix together the brown sugar, chili powder, ground cumin, paprika, garlic powder, cayenne pepper, and lime zest. Then, pour in the canola oil and mix together. Add the shrimp to the bowl and mix together. Set aside and marinade for 20 minutes.
To make the damn salsa: Combine tomato, avocado, jalapeno, salt, pepper, lime juice, and cilantro in a small bowl and stir to combine. Set aside. (If not using right away, place a piece of plastic wrap inside the bowl and directly over salsa to prevent discoloration and refrigerate.)
Now, we will cook the damn shrimp. Preheat a couple of turns of canola oil in a large skillet on high heat. Add the marinated shrimp and cook until opaque and cooked through, turning once (2-3 minutes per side). Remove from heat.
Finally, let's assemble the damn tacos. On top of the tortillas, add the Pico, shrimp, and salsa. Garnish with cilantro and lime wedges, for squeezing. Enjoy…dammit!