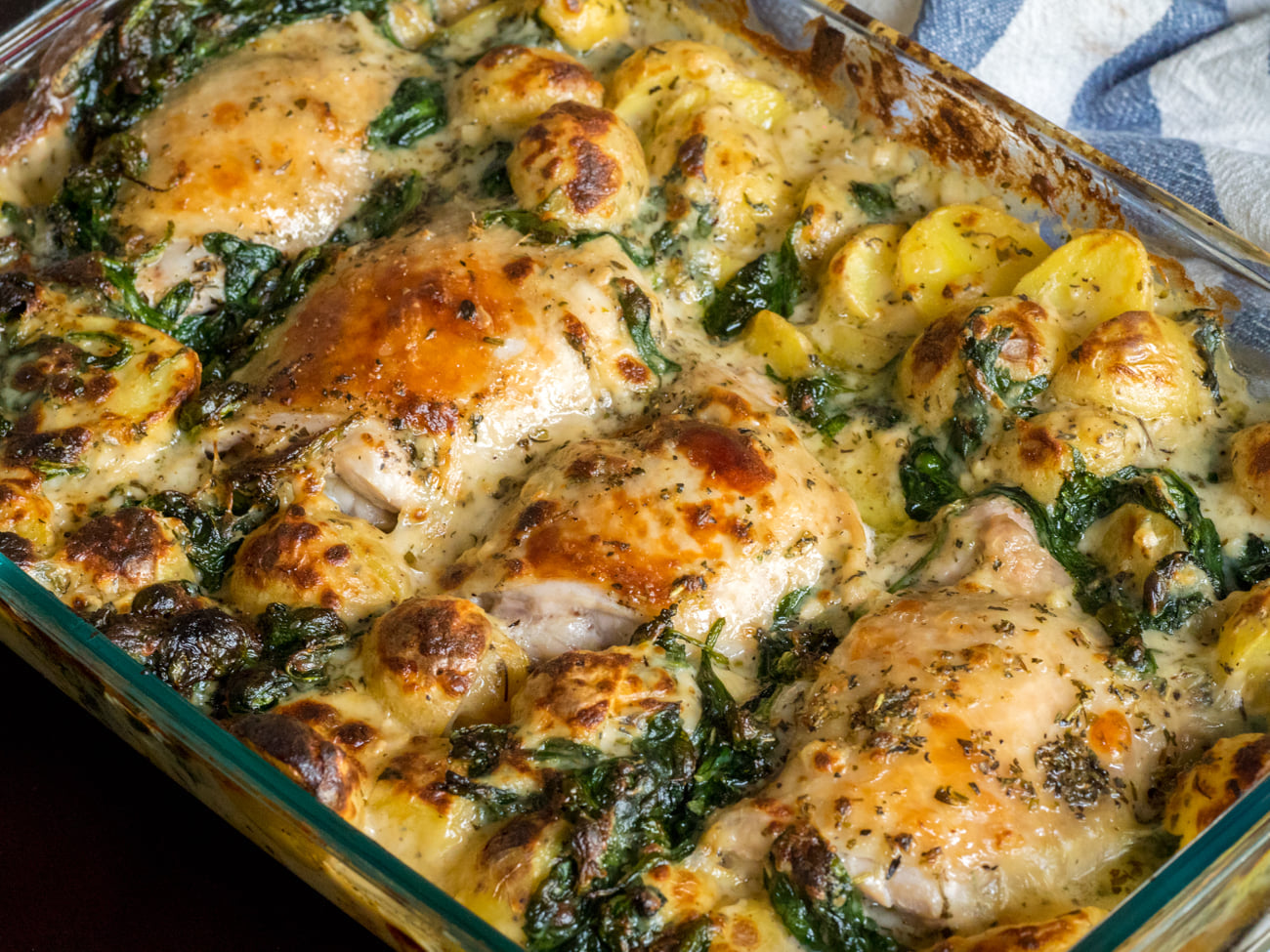 Here's another Q97 listener inspired dish. Put some Dean Martin or Frank Sinatra on the record player and pour yourself a glass of Malbec for this one.
8 bone-in, skin on chicken thighs
1 1/2 pounds fingerling potatoes
4 cups baby spinach, chopped
4 tablespoons unsalted butter, divided
1 tablespoon Italian seasoning
Kosher salt and freshly ground pepper, to taste
Fresh parsley, for garnish
For the sauce:
1 cup low-sodium chicken broth
1/2 cup half and half
1/2 cup parmesan cheese, grated
1/4 cup (1/2 stick) unsalted butter
1/4 cup all-purpose flour
6 cloves garlic, minced
1 teaspoon dried thyme
1 teaspoon dried basil
1/2 teaspoon dried oregano
Preheat oven to 400º F and lightly grease a 9×13-inch baking dish with butter or Pam spray.
Season the chicken on both sides with a good amount of salt & pepper. In a large skillet, sear the chicken over medium-high heat on both sides, about 4 minutes per side, then remove and set aside. For a good sear, don't crowd the skillet. Cook in batches.
In the same skillet, melt 2 tablespoons butter over medium-high heat and sauté spinach until just wilted. Remove from heat.
For the sauce: lower heat to medium and add butter to skillet. Add minced garlic and cook for 1-2 minutes, stirring frequently so it doesn't burn.
Whisk in flour and cook for 1 minute, or until roux is thick and golden brown, then slowly whisk in chicken broth until mixed well.
Stir in parmesan cheese and half-and-half, and cook for another 3-5 minutes, or until thickened, then stir in thyme, basil and oregano. Season with salt and pepper.
Season chicken thighs with salt and pepper and Italian seasoning and place in baking dish.
Place chicken thighs skin side up in your greased baking dish, then top with sautéed spinach and halved potatoes. Top with cream/parmesan sauce, then place in oven and bake for 20-25 minutes, or until chicken is cooked through. Garnish with fresh parsley.