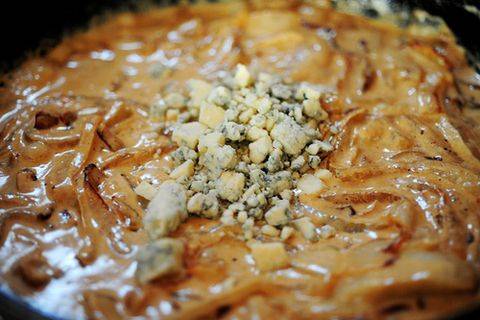 Today is Cook Something Bold & Pungent Day. Now, with that said, I think we can do away with some of these days. I mean, do we really need "Wear a Band-Aid on Your Finger for No Reason Day', or "Sing in Your Car Day", or my favorite, "Wear Your T-shirt Inside Out Day?" Oh well. Here's something bold & pungent:
Grilled Rib Eye Steak with Gorgonzola-Onion Sauce
2 rib eye steaks (about 12 ounces each)
Kosher salt and fresh ground pepper, to taste
1 stick softened butter
1 large yellow onion, sliced
1 cup heavy cream
A few dashes of Worcestershire sauce
1 cup crumbled gorgonzola
Light your grill and set it to high.
Sprinkle the steaks with salt and pepper and smear both sides of the steaks with 1/2 stick of the butter.
Grill the steaks until medium-rare, 3 to 4 minutes per side, and then remove from the heat and keep warm.
Melt the remaining 1/2 stick of butter in a large skillet over medium-high heat, and then sauté the onions until golden brown, 7 to 8 minutes. Pour in the cream, a dash of salt and pepper and the Worcestershire sauce. Let it bubble up, then add the gorgonzola (or blue) cheese and stir together to melt, adding more pepper and Worcestershire sauce as you wish.
Place the steaks on plates and spoon the sauce over the top. I like to serve mine with asparagus and sauteed mushrooms.