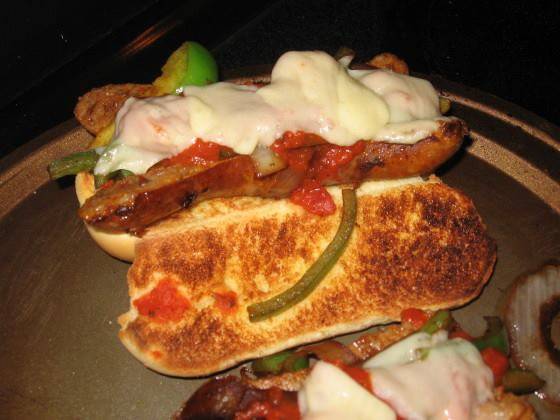 How'd that John Denver tune go? "Sausage on my shoulders makes me happy" Pack a few for the Kool April Nights Show & Shines and the Friday night Cruise.
6 Italian sweet or hot sausage
1 1/4 cups dry white wine
2 -4 teaspoons extra virgin olive oil, divided
2 large onions, thinly sliced into half moons
4 cloves or teaspoons garlic, minced
4 large green bell peppers, seeded and thinly sliced
Kosher salt & freshly ground black pepper
6 large crusty French rolls, split and warmed in oven
12 slices provolone cheese, 1 to 2 slices per sandwich
Your favorite jarred marinara sauce. I like spicing mine up with garlic and red pepper flakes
1. Poke the sausages with a fork, and place in a large lidded skillet with 1-2 Tsp extra virgin olive oil and 1 cup white wine, turn on heat to medium, and partially cover.
2. When pan begins to boil, turn sausages, and continue to simmer, turning several more times.
3. When liquid has evaporated, uncover, and continue cooking until sausages have browned to your taste.
4. Remove sausages from pan, and set on paper towels to drain.
5. Drain all grease from skillet, but do not wash or rinse it.
6. Add 1-2 Tsp more extra virgin olive oil to pan, and place on medium heat.
7. Add onions, and garlic, and season to taste with salt and pepper.
8. Moisture from the onions should be enough to deglaze the pan, but you can add 1/4 cup white wine if you need to.
9. Stir the onions, scraping the bottom to pick up and dissolve browned bits from the sausage.
10. Continue cooking and tossing until onions are almost translucent.
11. Add peppers, and toss to combine with onions.
12. Turn up heat to medium-high, and continue to toss and cook until peppers are crisp-tender or to your taste.
13. Bury the sausage in the vegetables to reheat
14. I usually serve on crusty French rolls
15. I split the warmed roll, brush on a little marinara sauce, split the sausages lengthwise, and pile on the onions and peppers.
16. Lay the provolone over the sausage, peppers and onions. Broil under high heat until hot and gooey.