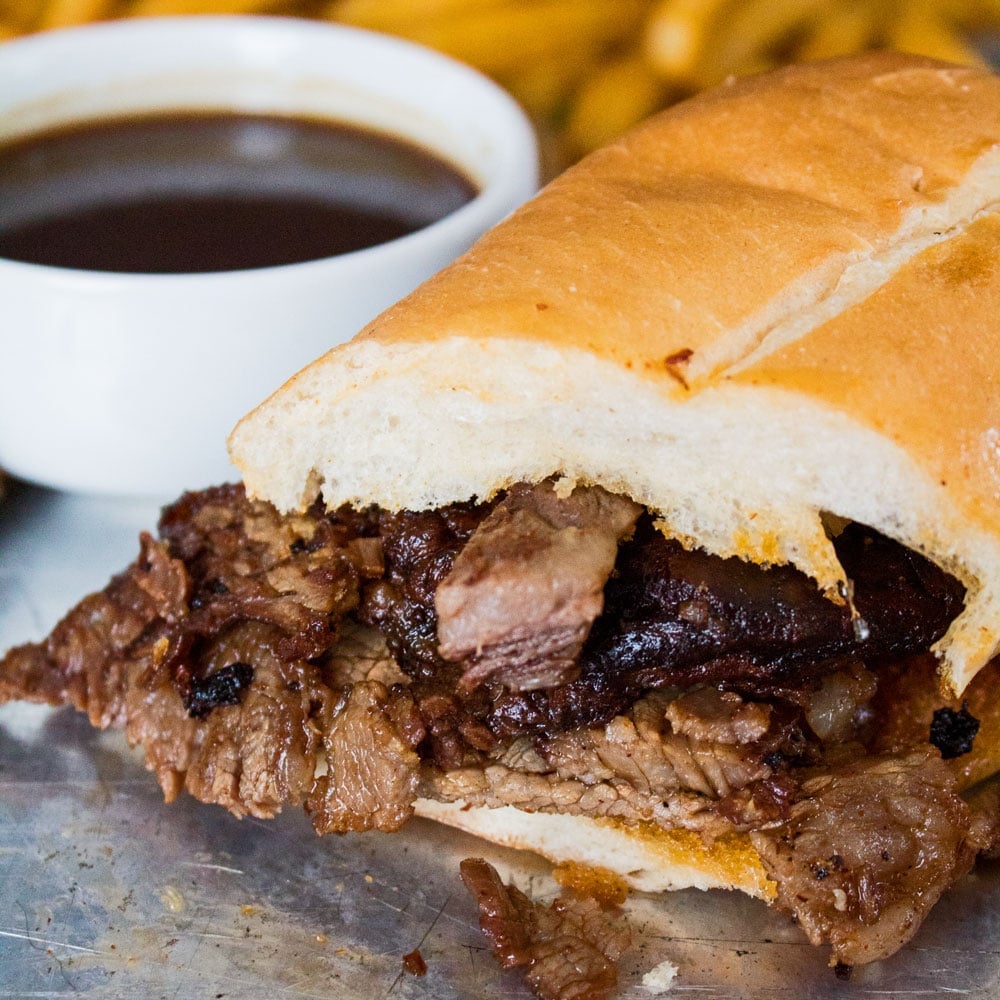 Merry Christmas!
If you're making prime rib this year, please, please, please make plenty for left-overs…prime rib tacos, prime rib nachos, prime rib mac n cheese, prime rib burgers, prime rib-vegetable beef soup, prime rib grilled cheese sandwiches and…
Leftover Prime Rib Dips with Red Wine Au Jus
Ingredients for 8 sandwiches
6 cups leftover prime rib red wine au jus (recipe below)
2 tablespoons olive oil
3 lb. leftover prime rib roast (thin sliced for sandwiches)
Kosher salt and fresh ground pepper, to taste
2 tablespoons butter
8 sandwich rolls (hoagie or torpedo rolls) buttered and toasted
16 slices Swiss cheese (optional)
In a saucepan, bring leftover prime rib au jus to medium temperature.
In a large skillet or frying pan, add olive oil and bring to medium high heat. Add sliced leftover prime rib beef and season with course ground salt and pepper. Cook until warmed, about 4-5 minutes.
Ladle about ½ cup portion of the au jus into the pan, and add the tablespoon of butter.
If you are putting cheese on the sandwiches, build the sandwiches (open faced) with the meat and cheese and put under the broiler, just until the cheese is melted. Otherwise, just build with the warmed meat and enjoy!
Serve with ramekins or cups filled with the red wine au jus.
Red Wine Au Jus
4 cups beef broth
2 cups cabernet sauvignon (or your choice red wine)
1 cup prime rib roast drippings
4 tablespoons unsalted butter
2 sprigs fresh rosemary
2 pinches ground sage
Kosher salt and fresh ground pepper, to taste
Combine all ingredients in a medium saucepan and bring to a rolling boil at medium high heat. Reduce heat to low and allow to simmer for 10 minutes, taste and simmer for an additional 5-10 minutes if you would like a stronger au jus.
Do not reduce the au jus too much, as it should be a thinner sauce than gravy. Add salt & pepper, to taste. Strain and serve in individual bowls for each of your guests (save the leftover au jus for sandwiches tomorrow!).