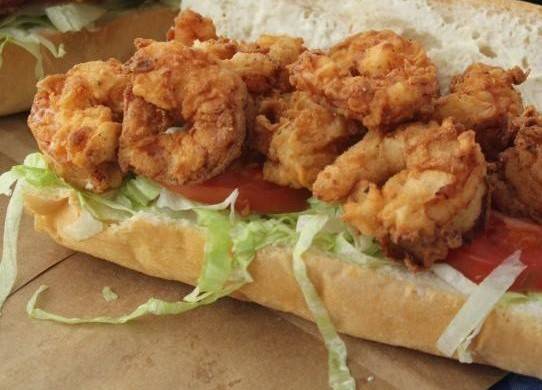 Happy Fat Tuesday! Let the fun and debauchery begin!
Louisiana Shrimp Po Boy with Rémoulade
Kosher salt and fresh ground pepper, to taste
1 teaspoon cayenne pepper
1 teaspoon garlic powder
1 teaspoon paprika
1/2 teaspoon dried oregano
1/2 teaspoon dried thyme
1/2 teaspoon onion powder
Vegetable oil for frying
2 pounds medium shrimp (16/20), peeled, tails removed and deveined
1 cup buttermilk
1 1/2 cups all-purpose flour
1 cup cornmeal
4 8"-long French rolls, split horizontally
Rémoulade (recipe follows)
Shredded iceberg lettuce, sliced tomatoes, dill pickles, sliced red onion, Crystal hot sauce or Pick A Peppa
Whisk first 7 ingredients in a small bowl to blend.
Attach a deep-fry thermometer to side of a heavy wide pot. Add enough oil to measure 2" or use a deep fryer. Heat oil to 350°.
Meanwhile, place shrimp and 2 Tbsp. spice mix in a medium bowl and toss to coat. Pour buttermilk into another medium bowl. Whisk flour and cornmeal in another medium bowl.
Dip seasoned shrimp briefly in buttermilk, then coat with flour mixture. Working in batches, fry shrimp, stirring occasionally, until golden brown and just cooked through, about 4 minutes per batch. Transfer to paper towels to drain.
Open rolls and spread cut sides with rémoulade. Top with lettuce, tomato, pickles, and shrimp. Serve with hot sauce, if desired.
Rémoulade
1 1/4 cups mayonnaise
1/4 cup mustard (Creole mustard if possible)
1 Tbsp sweet paprika
1-2 teaspoons Cajun or Creole seasoning
2 teaspoons prepared horseradish
1 teaspoon pickle juice (dill or sweet)
1 teaspoon Crystal hot sauce
1 large clove garlic, minced and smashed
Mix all the ingredients together in a medium bowl. Refrigerate until using.