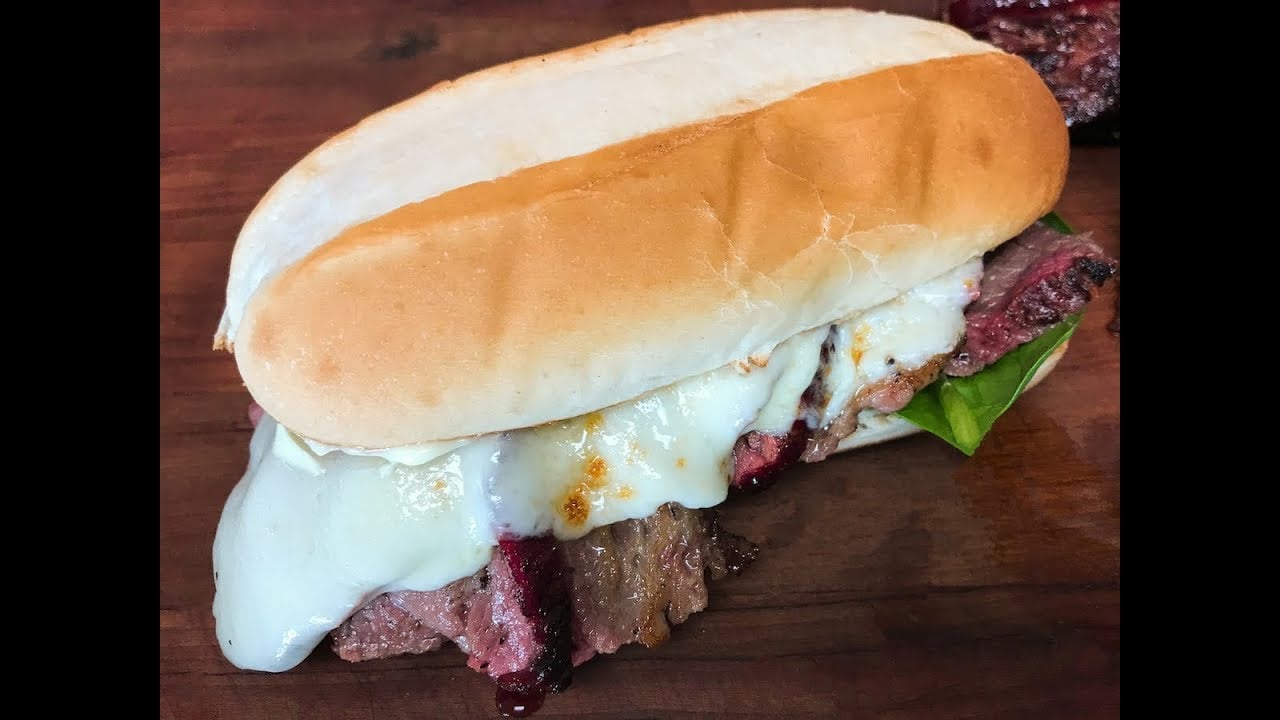 I think it's time for a sandwich which features something that once had a pulse.
Marinated Tri-Tip Sandwich with Caramelized Onions and Horseradish Cream Sauce
CARAMELIZED ONIONS
4 jumbo yellow onions, halved and sliced into thin half moons
Honey
1/2 cup olive oil
4 tablespoons unsalted butter
Kosher salt, to taste
HORSERADISH CREAM SAUCE
1 cup mayo
1 cup sour cream
1/4 cup buttermilk
1/2 cup prepared horseradish
2 tablespoons lemon zest
Dash Worcestershire sauce
Kosher salt and fresh ground pepper, to taste
FOR THE MARINADE
3-4 lb. tri tip (I buy untrimmed and trim it myself)
1 tsp sesame oil
3 green onions, sliced
3 cloves garlic, minced
1 tbsp rice wine vinegar
1 tbsp raw honey
One inch knob fresh ginger, grated
1/2 tsp crushed red pepper flakes
3 tbsp olive oil
1/3 cup beef broth
1/2 cup soy sauce
FOR THE SANDWICH
4 Good quality French rolls
Swiss cheese slices
1 bunch watercress
For the caramelized onions:
Place the sliced onions in a large skillet over medium-high heat. Add the olive oil, a drizzle of local honey and salt. Then add the butter on top and let melt down into the onions. Continue to cook down until the onions are somewhat transparent, gooey and quite sticky with some of the ends crispy. Remove from heat and set aside.
For the horseradish cream sauce:
In a bowl, add all the ingredients and stir to mix well. Set aside.
For the marinade:
In a sealable 1-gallon freezer bag or airtight container, add trip tip, followed by the remaining marinade ingredients.
Using your hands, press the marinade all around the ti tip, then press the air out of the bag and seal tightly, making sure to press the marinade around the ti tip to coat. Place in the fridge to marinate for at least 3 hours, preferably 8-24 hours.
For the meat:
Heat grill to 500°F.
Sear meat on both sides for approximately 5-6 minutes. Remove from direct heat and place on the indirect side of the grill or reduce heat to medium-high (approximately 350°F). Continue to cook until internal temperature reaches 130°F, approximately 20-25 minutes.
Place tri-tip on cutting board and let rest for 12-15 minutes before thinly slicing (across the grain). Then sprinkle with a little more kosher salt.
To assemble:
Drizzle the bottom of the bread, drizzle with the horseradish sauce and top with the meat, cheese, watercress and a final slathering of the sauce.