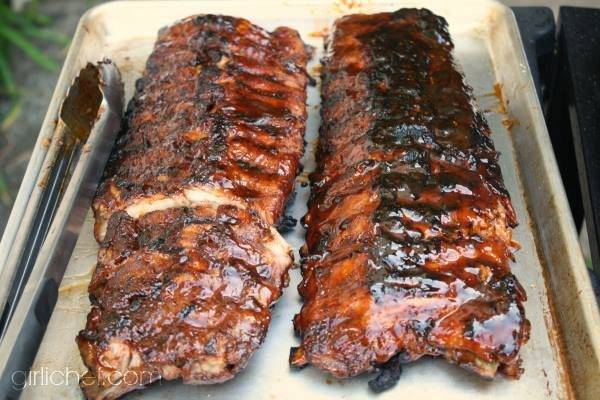 Memorial Day Weekend is coming up and that means BBQ! If you've ruined more ribs than you care to recall, here's a recipe and method called "Ribs for Dummies" I got this out of a barbecue cook book years ago and it works well. It's an oven to grill method. If you screw this up, I don't wanna know ya. Have a safe and fun weekend!
Ribs for Dummies with BBQ Sauce
5 pounds pork ribs (baby back or St. Louis) membranes removed
Kosher salt and fresh ground black pepper, to taste
Barbecue Sauce (Makes 1 1/2 quarts)
1/2 tablespoon crushed red pepper flakes
1/2 cup vegetable oil
1 large yellow onion, chopped
4 cloves minced garlic
1 10 ounce can tomato paste
1 cup apple cider vinegar
1 cup honey
1/2 cup Worcestershire sauce
1 cup Dijon mustard
1/2 cup soy sauce
1 cup hoisin sauce
2 tablespoons chili powder
1 tablespoon ground cumin
Preheat the oven to 350 degrees. Line a sheet-pan with aluminum foil.
Place the ribs on the sheet pan meat-side up and sprinkle them with salt and pepper. Pour the barbecue sauce generously on each rack and cover the ribs loosely with aluminum foil. Bake for 1 1/2 hours for baby backs and 1 ¾ to 2 hours for St. Louis ribs, until the meat is very tender. As soon as the ribs are out of the oven, spread them generously with more barbecue sauce.
Grill right away or refrigerate to grill later.
Heat a charcoal grill with a layer of hot coals or heat a gas grill to medium-high heat. Brush the grates with oil to keep the ribs from sticking. Place the ribs on the grill ribs-side down, close the lid and grill for 5 minutes. Turn the ribs meat-side down, put the lid back on and grill for another 4 to 5 minutes, until nicely browned. Place on a cutting board and cover tightly with aluminum foil and allow the ribs to rest for 10 minutes. Cut into ribs and serve hot with extra barbecue sauce on the side.
Barbecue Sauce (Makes 1 1/2 quarts)
Heat the oil in a large saucepan over low heat, add the onions and cook for 10 to 15 minutes, until the onions are translucent but not browned. Add the garlic and cook for one more minute. Add the tomato paste, vinegar, honey, Worcestershire sauce, mustard, soy sauce, hoisin sauce, chili powder, cumin and pepper flakes.
Bring to a boil, then lower the heat and simmer uncovered for 30 minutes. Use immediately or pour into a container and refrigerate. It'll keep for a good, long time.