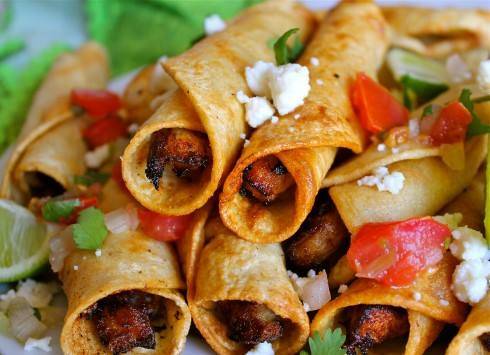 F**k Halloween…it's Taco Tuesday! They're called flautas or taquitos, but for the sake of Taco Tuesday, we'll call them rolled tacos.
1 tablespoon vegetable oil
1-2 tablespoons of your favorite Mexican seasoning. (I make my own)
2-3 tablespoons water or chicken stock
1 onion
2 garlic cloves
3 cups chicken, cooked and shredded (I used a rotisserie)
4 ounces cotija cheese, crumbled
12 corn tortillas
oil, for frying (enough to get 1 inch in your pan)
Kosher salt and fresh-ground pepper, to taste
For the Pico de Gallo
3 tomatoes, chopped
half of a small onion, finely chopped
1-2 jalapenos, seeded and finely chopped
chopped cilantro to taste
juice of half a lime
Kosher salt, to taste
Other Topping Ideas
Queso fresco
Shredded lettuce
Jarred salsa
Hot sauce
Avocado
Guacamole
Sour cream
1. Start by making the Pico de Gallo. In a medium bowl combine the tomatoes, onion, jalapenos, and cilantro. Add the lime juice, then salt to taste. Set aside in the fridge till ready to use.
2. For the filling: Chop the onion finely and crush and mince the garlic. Heat a tablespoon of oil in a skillet until it starts to shimmer. Add the onion and sauté for about 5 minutes or until translucent. Add the garlic and cook for 30 seconds or until fragrant. Add the shredded chicken, Mexican seasoning, a little water or chicken stock and salt and pepper to taste. Mix the chicken and seasoning well. When the chicken is warm and a little crispy, remove from heat and stir in the queso fresco.
3. Soften the tortillas 3 or 4 at a time on a plate covered in a moist paper towel in the microwave. Start with 15-30 seconds. You want them to be pliable enough that they don't crack when rolled. Take one tortilla at a time (keep the rest covered!) and place a large spoonful of the chicken filling down the center. Roll tightly to make a neat cylinder and secure with a toothpick. (Stick the toothpick in directly adjacent to the taco, then poke it back out.) Immediately cover the rolls with moist paper towels to prevent the tortilla from drying out and splitting. Fill and roll the remaining tortillas.
4. Pour oil into a high-sided pan to a depth of 1 inch. Heat on medium or medium low to 325 degrees. Add the tacos a few at a time and fry for 2-3 minutes until golden, turning with tongs as necessary. Drain on paper towels, then salt and serve at once with your favorite toppings.