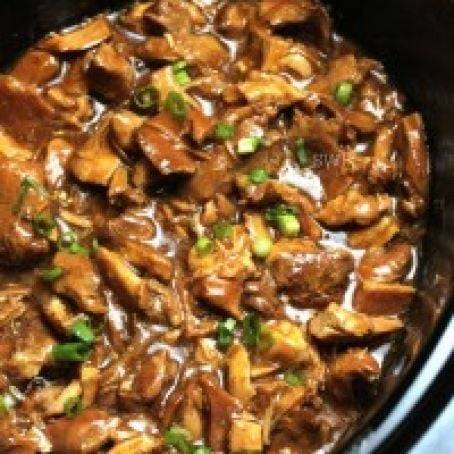 My mom used to make this and she hand made the egg noodles! I don't have the patience for that. The packaged noodles work just fine.
Ruthie's Crock Pot Bourbon Chicken
3 lbs boneless skinless chicken thighs
3 tablespoons cornstarch
¼ cup sliced green onions (or more to taste)
For the sauce:
½ teaspoon fresh grated ginger
4 cloves garlic , minced
½ teaspoon crushed red chili flakes
⅓ cup apple juice
1 ½ tablespoons honey
¼ cup brown sugar
¼ cup ketchup
3 tablespoons cider vinegar
¼ cup water
¼ cup Bourbon (I like cooking with Maker's Mark)
¼ cup soy sauce
Kosher salt and fresh ground pepper, to taste
Egg noodles, cooked per package instructions, for serving
Mix all sauce ingredients in a small bowl.
Place chicken in slow cooker, pour sauce over top. Cover and cook on low 6 hours or on high 3 hours, or until chicken is nice and tender.
Remove chicken and chop into bite sized pieces and cover to keep warm.
Meanwhile, combine 3 tablespoons water with cornstarch. Turn slow cooker up to high. Whisk cornstarch slurry into the sauce. Cover and allow to thicken, stirring occasionally for about 10 minutes. Stir chicken back into the sauce and add in green onions.
Serve over egg noodles.