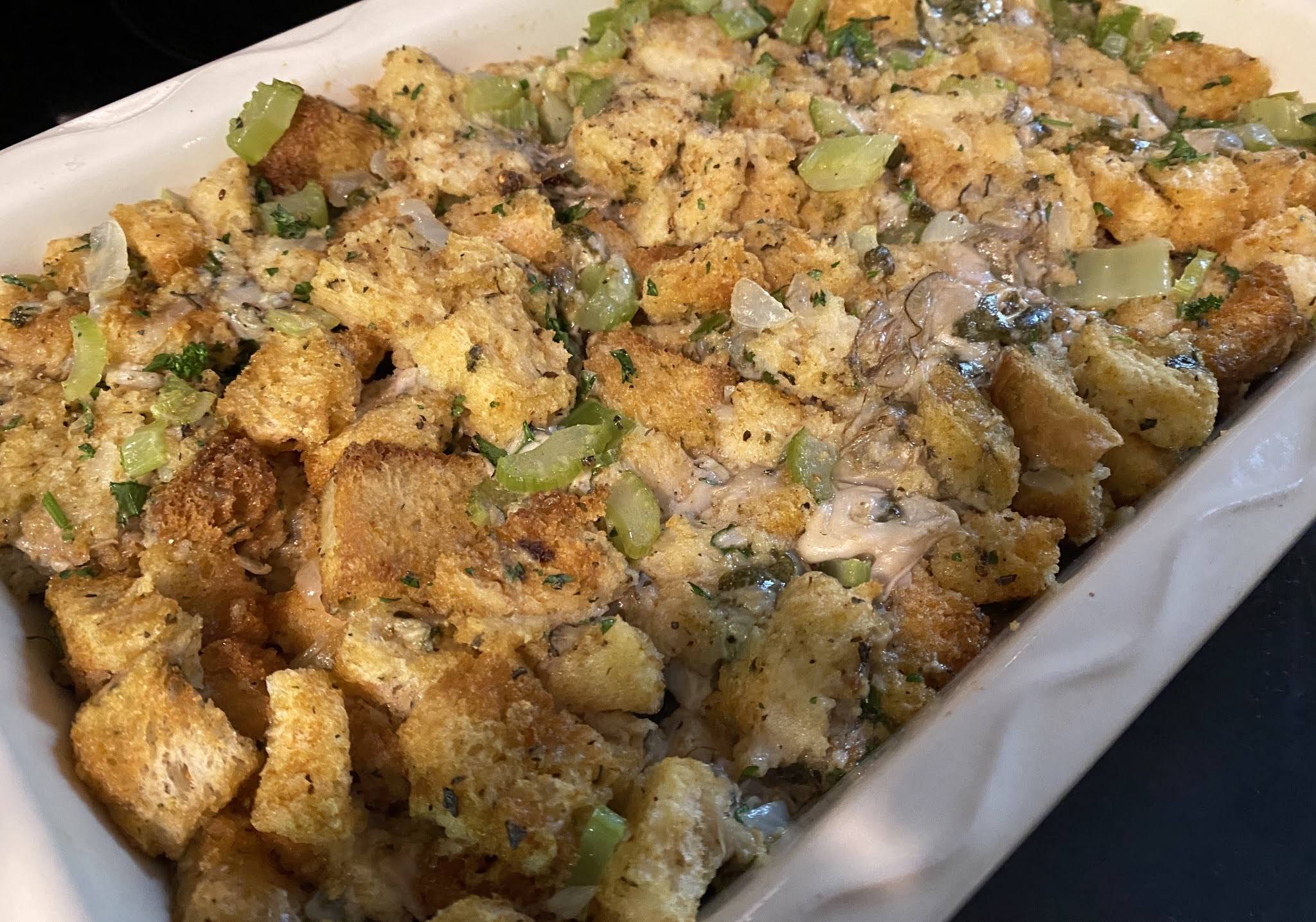 Thanksgiving side #2
My absolute, all-time favorite Thanksgiving side…my mom's oyster dressing. It reminds me of the last time I had it with her on Thanksgiving. Even with her dementia, she knocked it out of the park that day! Knowing what was coming, I didn't want her recipe to be lost forever. As we were eating what would be our last Thanksgiving meal together, I asked her for the recipe. Her reply… "Oh dear God, I've never made that in my life." That's what she believed at that moment. She didn't like oyster dressing, but she always made it for me. Gone forever. I've written my own recipe, which seems to be close to hers.
"Ruthie's" Oyster-Sausage Dressing
8 cups prepared stuffing bread cubes
2 ribs celery, chopped
1 small yellow onion, chopped
2 (8 ounce) jars of oysters. Reserve the liquor
1 pound of Italian sausage, casings removed
1 stick unsalted butter, melted
Kosher salt and fresh-ground pepper, to taste
1 teaspoon ground sage
1 teaspoon poultry seasoning
1 teaspoon thyme
1⁄2 cup evaporated milk
In a large skillet, crumble and cook the sausage. Drain on paper towels and set aside. Reserve a couple of tablespoons of the fat.
Heat milk, butter, and oyster liquor in a small pan.
Combine bread cubes, celery, onion, spices, sausage (with reserved fat) and oysters. (You may cut up the oysters if they are too large for you.)
Add liquid and stir. Use a big bowl for this…you'll need it!
Place in a buttered baking dish.
Bake at 350 for 1 hour.