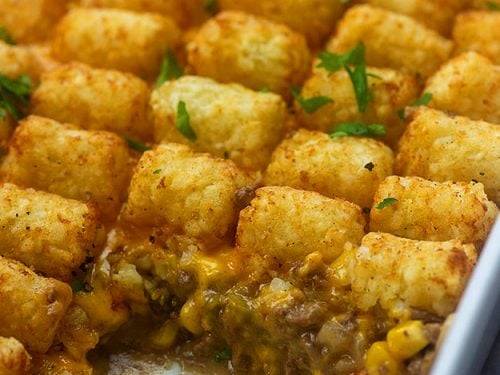 This recipe is super easy and would be great for Super Sunday morning to sop up all the alcohol coming later in the day.
1 pound hot or mild Italian sausage, casings removed and crumbled
½ sweet onion diced
2 cloves garlic minced
15 ounces canned mixed vegetables
10 ounces cream of mushroom soup
2 teaspoons Worcestershire sauce
Dash of hot sauce or pepper sauce
2 cups shredded cheddar
16 ounces frozen tater tots
Fresh basil, chopped, for garnish
Preheat oven to 375 degrees. Spray a 9×13 baking dish with non-stick spray.
Add the sausage, onion, and garlic to a large skillet and cook, breaking the meat up as it cooks, until it is cooked through. Drain the fat and add the beef mixture to a large mixing bowl.
Add the mixed vegetables, the soup, Worcestershire sauce, and hot sauce to the bowl and stir well to combine.
Spread the sausage mixture into the prepared baking dish. Sprinkle with the cheddar.
Arrange the tater tots in an even layer over the cheese.
Bake for 45 minutes or until the tater tots are golden brown and crispy. Garnish with the basil.