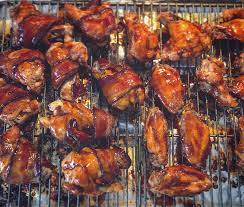 OK. One more wing recipe for your Super Bowl bash.
2 lb. chicken wings
15 slices bacon, halved
1/4 cup barbecue sauce
2 tbsp. maple syrup
1 tbsp. apple cider vinegar
1 tbsp. brown sugar
1/2 tsp. chili flakes
1. Preheat oven to 425° and line a large baking sheet with aluminum foil. Wrap wings with ½ slice bacon each, and place on prepared baking sheet.
2. In a small bowl, combine barbecue sauce, maple syrup, apple cider vinegar, brown sugar and chili flakes. Whisk to combine. Brush wings all over with the sauce and bake 45 minutes, until wings and bacon are crisp and golden. Serve.