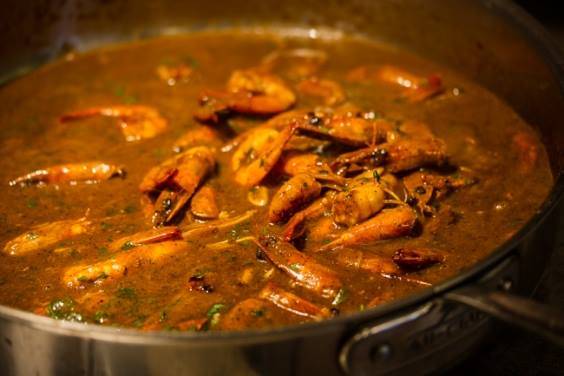 I'm in a Creole state of mind. "Laissez les bons temps rouler!" Here's another recipe you may want to have handy for your Super Bowl party. This recipe is from "The Joy of Cooking" which is a better read, in my opinion than "The Joy of Sex"
Ingredients for 4 main-course servings
Crusty bread dipped in the sauce is so tasty it's almost possible to ignore the shrimp. To double the recipe, prepare two batches in separate pans.
Grind in a spice mill or coffee grinder until fine:
2 teaspoon dried rosemary
2 teaspoon dried oregano
2 teaspoons dried thyme
2 teaspoons crushed red pepper flakes
1 teaspoon whole black peppercorn
2 bay leaves
Mix in:
3 tablespoons all-purpose flour
2 teaspoons sweet or smoked paprika
2 teaspoon salt
Add 1/3 of this mixture to a large bowl and toss with:
1½ to 2 pounds medium shrimp, heads trimmed
Let a large skillet or sauté pan come up to temperature over medium-high heat for five minutes.
Add and swish around the pan:
2 tablespoons peanut oil
Add the shrimp in one layer and sear on each side for 2 minutes. Remove to a clean bowl or plate.
Reduce the heat to medium and melt in the pan:
1⁄2 cup (1 stick) butter
Add the remaining spice mixture and:
8 garlic cloves, thinly sliced
Cook, stirring, for 4 minutes, or until the spices and flour are a nice dark brown.
Add to the pan:
1 cup shrimp stock, fish stock, chicken stock, or more beer
1 12 oz. bottle of beer
Bring to a boil over high heat and let the sauce reduce for 2 minutes. Turn off the heat and return the shrimp to the pan to heat through.
Serve with:
¼ cup minced parsley
2 lemons, cut into wedges
Plenty of warm, crusty bread for dipping