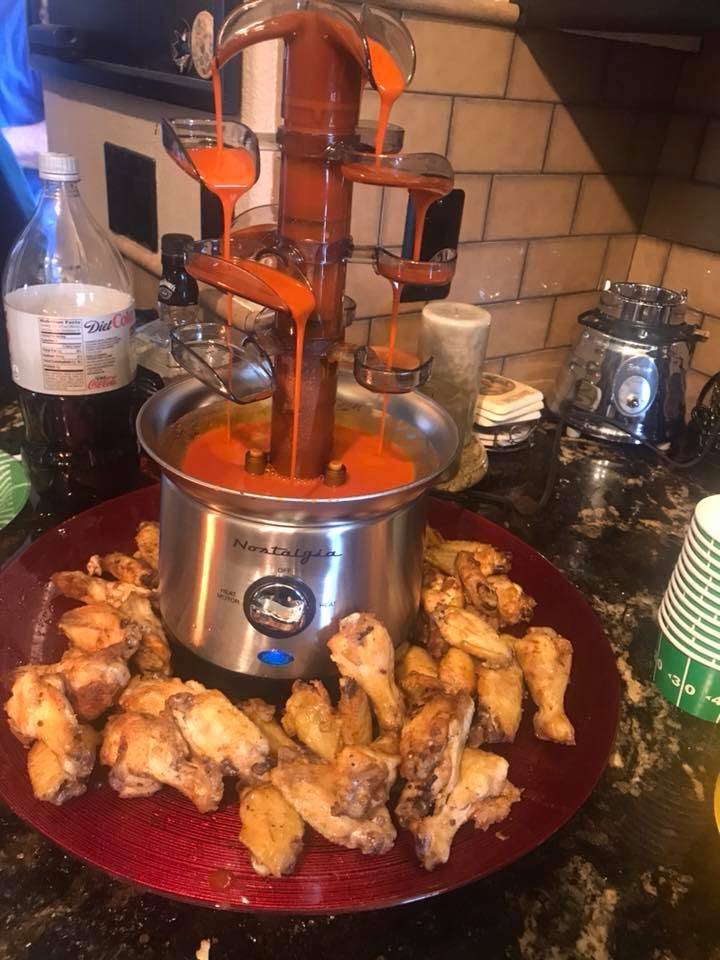 The 49ers loss yesterday was an awful way to end an otherwise magical season. It's very difficult to win a football game without a quarterback. It would've fun to see what could've happened with an un-injured in there for the whole game. Oh well, that's no reason not to party. A Super Bowl without wings is like a visit from the in laws without liquor. Yes, the wing fountain will be running.
CHICKEN WINGS
4 pounds chicken wings cut into drumettes and flats.
1 tablespoon baking powder (NOT baking soda)
2 teaspoons garlic powder
Kosher salt and fresh ground pepper, to taste
BUFFALO SAUCE
1/4 cup unsalted butter, melted.
1/2 cup Frank's Original Red-Hot Sauce
1-2 tablespoons honey, white sugar, or brown sugar (adjust to suit your tastes)
BLUE CHEESE DIP
4 oz. block blue cheese, crumbled by hand.
1/3 cup sour cream
1/4 cup mayonnaise
2 cloves garlic, minced.
1 tablespoon lemon juice
Kosher salt and fresh ground pepper, to taste
Mix all the dip ingredients together in a bowl and refrigerate until needed.
Adjust oven rack to upper-middle position and preheat oven to 450°. Line a rimmed baking sheet with aluminum foil and set a wire rack on the baking sheet.
Pat dry chicken wings with paper towels, squeezing out as much moisture as you can. Transfer them to a large bowl.
In a small bowl, combine the baking powder, garlic powder, salt and pepper together, whisking well to combine, and sprinkle the mixture over the wings. Toss wings through the baking powder mixture until evenly coated.
Arrange on rack, leaving about 1-inch of space between each wing.
Bake for 30 minutes; flip and continue to cook until crisp and golden brown, (about 20-30 minutes longer), until golden browned and crispy.
While wings are cooking, whisk together hot sauce, butter and sugar. Toss wings through the sauce to evenly coat.
Serve the wings with the blue cheese dip and celery sticks.