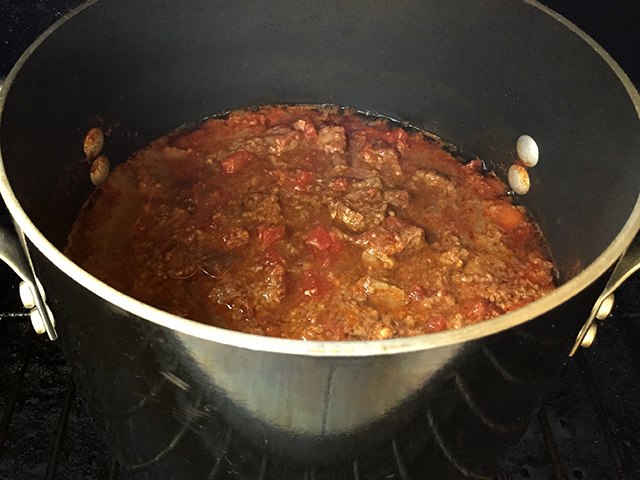 I traditionally make my first batch of chili for the winter on Halloween. I might bust it out early this year. This is good World Series weekend food. 
3-4 lb. untrimmed tri tip
2 lbs. hot Italian sausage, casings removed and broken up like ground beef
2 onions, diced
1 head garlic, finely diced
1 can diced green chiles
1 can diced jalapenos
2-28 ounce can diced tomatoes (keep another one handy if you need more)
2 tablespoons cumin
2 tablespoons coriander
2 tablespoons chili powder
2 tablespoons garlic powder
1 package of chili mix. I like Shelby's
Kosher salt and fresh-ground pepper, to taste
1 teaspoon cayenne pepper
2 tablespoons paprika
2 bay leaves. Don't eat the bay leaves
2 (14 ounce) cans of your favorite beans (optional)
1 or 2 cups red wine
Remove your tri-tip from the fridge. Trim as much fat off the tri-tip as you want and season liberally with salt and pepper. Allow the tri-tip to reach room temperature.
Heat your grill or BBQ with a hot zone and cold zone.
Sear the tri tip on both sides, about 3-4 minutes. Don't walk away while searing…It'll catch on fire if you don't watch it. Move it around if you have to so it doesn't burn. After searing, move the tri tip to the cold zone and turn down the hot zone to medium high.
Cook the tri tip until the internal temperature reaches 130 degrees. Get it off the grill and rest it at room temperature while you brown your sausage.
Heat a large stock pot or Dutch oven over medium-high heat. Add a couple of turns of olive oil to the hot pot. Add your onions and cook through until translucent, about 4 minutes.
Add your sausage. Cook until just browned.
Add the canned tomatoes. Stir to incorporate completely. Bring the pot to a mild boil, then turn down to a simmer.
While simmering, cube the tri tip. Add the cubed tri tip, all of the spices, chiles, jalapenos garlic and wine. Stir to incorporate completely. Bring it back to a mild boil then turn down to a very low simmer and simmer for at least one hour to several hours. As the chili simmers, thin with water or broth if needed. If the chili is too thin for your liking, add masa.
Add beans (optional) about a half hour before serving.
Serve with corn bread, flour tortillas, crackers or garlic bread and toppings.
TOPPINGS:
Sour cream (kicked up sour cream recipe follows)
Cheddar cheese
Sliced radishes
Sliced green onion
Sliced avocado
Pickled jalapeno
Lime wedges, for squeezing
Kicked Up Sour Cream
1–16-ounce container sour cream
1 tablespoon chili powder
1 teaspoon cumin
½ teaspoon cayenne
1 tablespoon fresh lime juice
A few dashes of hot sauce
Mix all the ingredients in a bowl. Keep chilled in fridge 'till service.